Congratulations on taking the next steps towards a healthier you! The Accuro mobile health App has been designed to help you collect your training and bio data from multiple Accuro products, including your Accuro chest heart rate monitors, Mio heart rate wristbands, at-home bluetooth scale, and much more!
This starters guide was designed to help you better understand your new App and will walk you though setting up your App and explain all the features you have access to. Let's begin!
Step 1
As a first time user, open the App and start creating an account. Returning users can simply login.

Step 2
After creating your account, you will be sent a verification code to the email you registered with. Enter this code and click "Verify".


Step 3
Continue filling out your personal information by entering your birthdate, weight, height, gender and activity level.

Step 4
After logging in for the first time, you are brought to your heart rate dashboard. To view and edit more of your personal data and to set up your goals for your workout activities, click on the menu button in the upper left hand corner of the screen.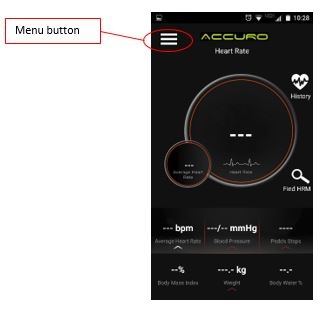 Step 5
While on your personal data screen, you can click and edit any of your personal fitness data, as well as set goals for your weight, steps, distance, calories, etc. You can also edit your max heart rate, as well as enter in your chest and waist size.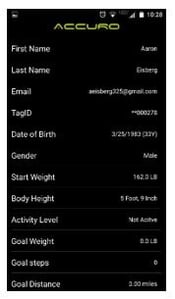 Step 6
When done with your personal data, click the "back" button on your mobile device to return to the Heart Rate dashboard screen. To start using your Accuro Heart Rate Monitor immediately with your App, place your Heart Rate Monitor correctly on your chest and then select "Find HRM" from the Heart Rate dashboard.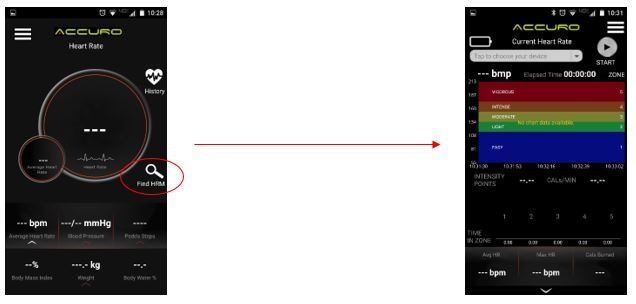 Step 7
Once you are on the Current Heart Rate screen, select "Tap to choose your device" at the top of the screen below the battery icon. You will see a pop-up come up which will be showing you the available HRM's in the vicinity. Select your HRM to start.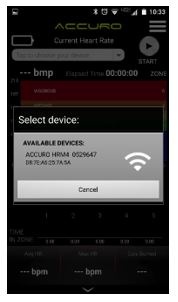 Step 8
As soon as you select your HRM, you are live and ready to begin your workout. If you have an HRM303 or HRM304 and if you have memory data stored on your HRM, this data will begin syncing immediately. To the right of the battery icon, you will see "Synchronized Heart Data". If this does not occur, then you may not have any memory currently stored on your HRM. After your memory is synched, the memory on the HRM will be reset and ready to store more data when needed. After any memory data is synced, the current heart rate screen starts to record your heart rate immediately and shows you data in real-time. Shown here is a graph showing you your current zone, as well as a chart that shows you your time in each heart rate zone. You earn intensity points based on how many minutes you spend in each zone.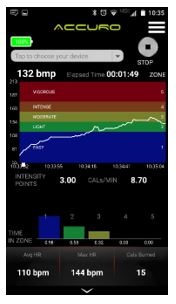 Step 9
When you are finished with your workout and ready to stop the live heart rate tracking, you can hit the "stop" button to end your session.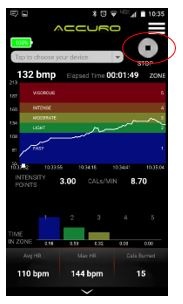 Step 10
After your work out, you can go back to the heart rate dashboard and click on the "history" button to see your most recent workout listed. All of your workouts are uploaded into the cloud and can be accessed here.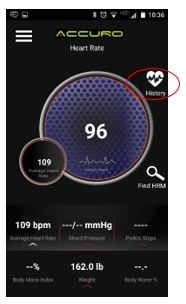 Step 11
After selecting "History", you will see your most recent workout showing. If you don't, click on the "HRM RECORD" button and download the workout from the cloud.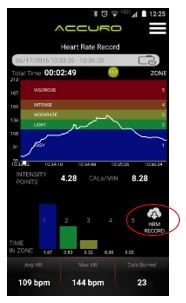 Step 12
After your latest workout downloads from the cloud, you can select the dropdown option to see all your workouts listed in order by date, most recent at the top. An overlay comes up for you to see your workouts. Select the workout you want to review. They are all time and date stamped for your convenience.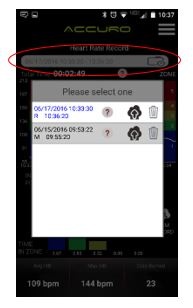 Step 13
After selecting the workout you want to review, you can tell the App what kind of workout you just performed, which will help you better identify the workout you did at a later date. On the workout review screen, just hit the Question Mark (?) button, which will bring up another overlay for you to identify the type of workout you just performed.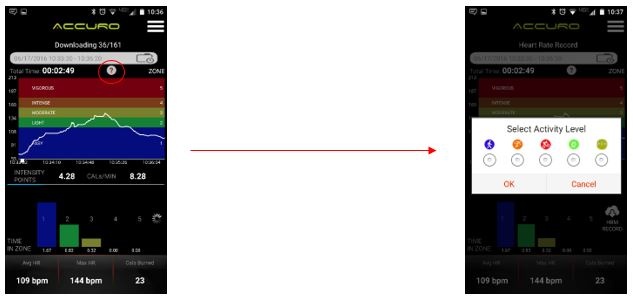 Step 14
To navigate the rest of the app, go back to the Heart Rate dashboard screen. From there, you can select other options, like the Body Weight screen.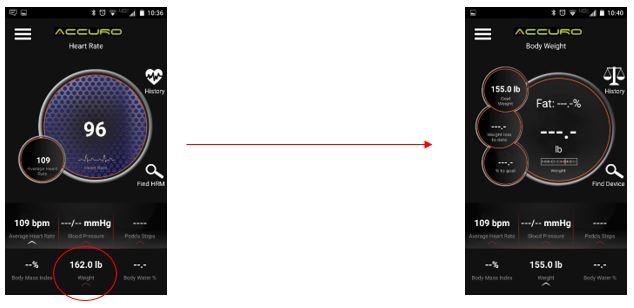 Step 15
Once you are on the Body Weight screen, you can select "Find Device" to locate and use a Bluetooth scale you have available to weigh-in. An overlay screen will come up with 4 different options to choose from. Select the scale you intend on using.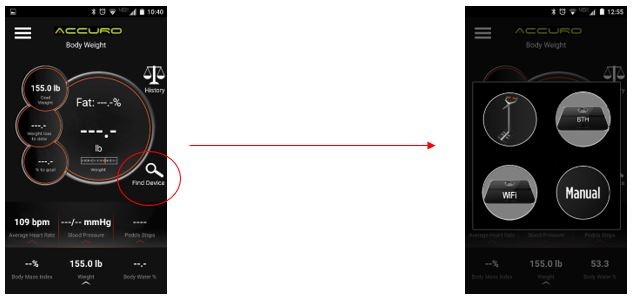 Step 16
After choosing the scale you intend on using, make sure your scale and App are connected to each other. Once they are connected, you can step on the scale for your weight to be measured. Along with your weight, your goal weight, weight loss to date, percent to goal and fat percentage should all be listed.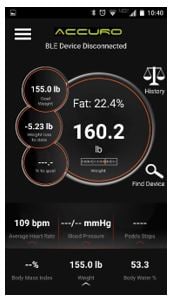 Step 17
From the Body Weight Dashboard, you can select "History", which will allow you to see your history of weigh-ins and body fat percentage.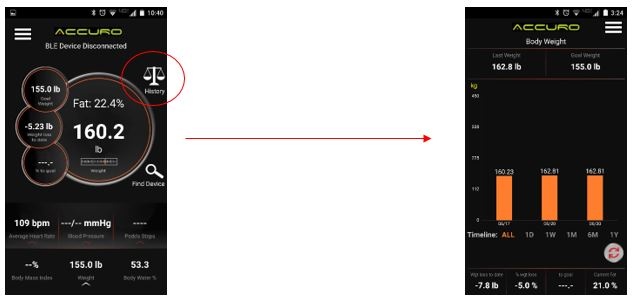 Step 18
Slide your finger to the left while on the Body Weight history screen to see the history of your Body Fat percentage.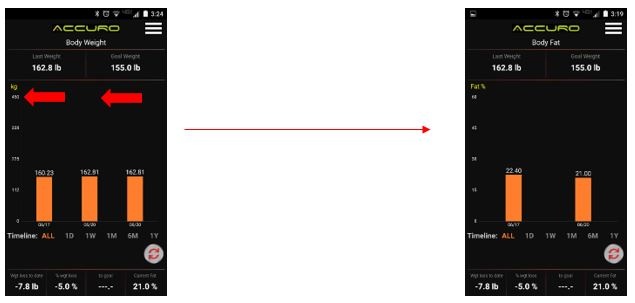 Step 19
From any dashboard screen, you can select "Blood Pressure" to take you to the Blood Pressure Dashboard screen.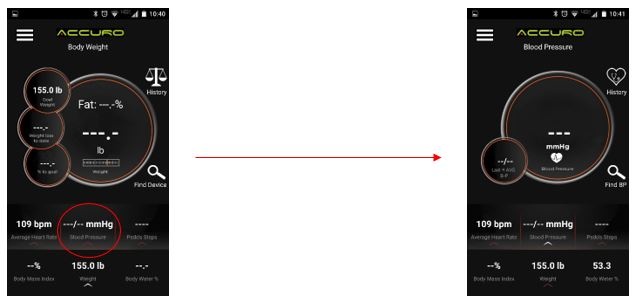 Step 20
From the Blood Pressure Dashboard, you can view your history or find a Blood Pressure Monitor that is ready to use. Choosing "Find BP" takes you to the live Blood Pressure measurment screen. Once there, turn on your Accuro Blood Pressure monitor and press the "play/start" button.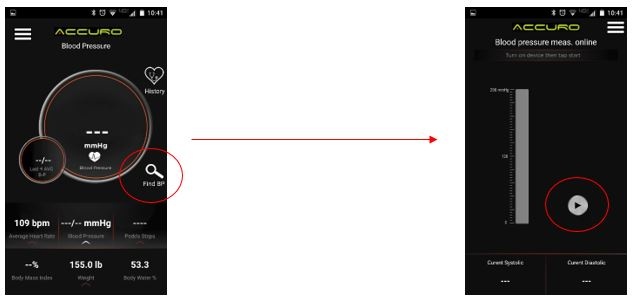 Step 21
Back on the Blood Pressure Dashboard screen, you can also select "History" to see your blood pressure historical data. Hit the "refresh" button at the bottom of the screen if your most recent data is not included.