The Power of Heart Rate Tracking in the palm of your hands.
AccuroPT is the next Level in fitness tracking for personalized coaching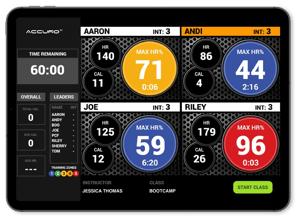 and small group training.
Accuracy in tracking heart rate, calories burned, training zones & intensity, all in real-time on your iPad, at your convenience.
Help your clients achieve more with a connected coaching experience and personalized feedback.
Capabilities
Ease of use
Best in class accuracy
Highly engaging - rich client experience
Personalized
Build customer loyalty with incentives
Bluetooth connectivity
Private label and customizable to meet your brand's specific needs
Run challenges, motivate your clients and keep them coming back for more
Products
Our heart rate devices connect seamlessly to live display via Bluetooth from your tablet for your private and small group training needs.
Capture data, visualize results in real-time and customize a fitness plan for your clients - you have the power to coach at the optimal intensity for their specific needs and goals.
Private Label Features
Raise your brand awareness
Drive loyalty to your services
Position your brand as a cutting edge leader in the industry